Welcome to my web site. Besides the technological and engineering contents, I'd like to present something else to you all. I'm a Thai and I love Thailand. So, I'd like to invite you to experience my country, including the Thai food, the numerous traveling destinations and the 'Thai way'. A t p resent we have King Phumiphol, the current head of nation, is highly loved and sincerely respected by the people.
Thailand is a country located in South-east Asia above the equator. Thailand has 3 seasons - winter, summer and rainy season. The temperature is approximately 35 degree Celsius which is pretty hot for foreigners. Winter is from December to February and from the end of February to March is summer and then rainy season. The best time of the year for traveling is in winter and summer because it will be no rain during the period. The sky is opentherefore you will see beautiful scenarios.
There are many tourist attraction places in the north of Thailand and the north-east of Thailand and the best time for touring there will be in winter. The temperature will be about 10-20 Degree Celsius. There are many breath-taking places in many provinces such as Mae-hongsorn, Chiangmai, Chiangrai and many more.
You will see the beauty of morning. Why do they call "beauty of morning"? Mountains and flower farms are covered with fog and the invisible end of the hills track therefore why not "beauty of morning". Mount Inthanon, The highest peak in Thailand 2,582 meters high from the level sea. All of these are the great scenario. Most people love to come to North of Thailand in winter because of its extraordinary beautiful scenario. The distance from Bangkok to Chiangmai city is about 700 kilometers and it takes about 8 hours if you travel by bus or one hour by plane.
| | |
| --- | --- |
| | |
Once the winter has gone, the summer comes with the average temperature of 30-37 degree Celsius. Between April12-15 is Thailand New Year festival or what we call "Song kran festival". What people do on these days for the younger to the elder is showing the respect and apologies for the bad things they did. In Songkran festival people water each other n o matter if they know each other to wish good luck and happiness. Therefore Songkran or Thailand New Year festival is very famous all a round the world. The most famous places for Songkran festival will be "Trog kao sarn" Road and Changmai city which are the places where you will see the uncountable smiles.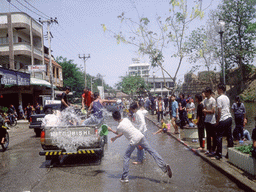 The sky is open in summer. The seas of the East and The south of Thailand are fabulous. Chonburi, Rayrong, Juntaburi, Trad are the famous provinces with the distance a round 100- 300 kilometers from Bangkok. You can travel by bus or your own vehicles. Chonburi is not even 100 kilometer from Bangkok. The most famous place of Chonburi will be "Pattaya" (one of the best known place of Thailand). Another famous one is Rayorng province. The place for fresh seafood for the seafood lovers. Many beautiful islands are there e.g. Samet Island "Koh-samet" etc. Moreover the white sand and the clear water ,
| | |
| --- | --- |
| | |
you can see the undersea life like reefs, and many amazing life cycle with your bear eyes. South of Thailand is another place where it is located adhere the Andaman Sea and is one of the interesting tourist places of Thailand. Krabi, Panggha, Phuket are examples of the most famous provinces of the South. The distance from
Bangkok to the South of Thailand is a round 700-900 kilometer s the choices of transport may be by bus, car, or plane.
Rainy season is not quite pleasant. As the name implied, it will be raining most of the time during the rainy season. Sometimes it rains cats and dogs. Probably going to Rainfalls is the best choice for Rainy season. Most of them are located near mountain s and the west of Thailand. A recommended province if you would like to see rainfall is Kanjanaburi which is about 200- 300 kilometer from Bangkok. Moreover the ancient place for example River Kwea Bridge which people use to cross the river to Burma.
The bridge was built during the Second World War by prisoner of war of Japanese army and also there is a prisoner of war cemetery. Also the Japanese weapons and equipments which were found during the Second World War are collected and shown in the museum.
An ancient place which was registered as a world class from UNESCO is the Sukhothai memorable. This is about 400-500 kilometers from Bangkok. It began about 700-800 years ago, Sukhothai province had many memorable places e.g. Monuments, temples and the " mile stone " which indicates that Thai people has our own language and was built by King Ramkhamhaeng the Great.
He engraved the history of Thailand on the stone and invented Thai alphabets. Also Sukhothai is the place where "Loi-Ka-Thong" festival took place. It is in November of every year.
Another important province is "Pranakorn Sri-ayuthaya", the province where many ancients were registered by UNESCO. The 417 years history with 33 Kings guarantees you how old the province is. Ayutaya has many ancient places. There were wars between Thai and Burma and that left many damag ed and wrecked places behind. No matter how much they were damaged they are still beautiful. Especially, "pra-barom-maha-rachawang" and "luang-por toe" which is the biggest.
Ayutaya has the most quantity of temples in Thailand. All these temples were constructed and engraved and crafted by the ancient specialists. Many of them are still in good condition and ready for our generation to visit.
The place which has to be mentioned and must go is "wat-pra-kaew". In the past, "wat-pra-kaew used to be king's paradise. "Pra-kaew-morakot" is located here. A round the temple consists of many wonderful architecture and wall painting. The other place where it is not too far from "wat-pra-kaew" is "Arun-rach-wanaram" temple. The place where there is a pagoda located on the side of "jao-pra-ya" river.
We have talked about many interesting places. The other thing that we cannot miss when talking about Thailand is Thai Food, Thai sweet. It is well known that "Tom yum Kung", and "papaya salad (som tum)" is very popular. Whoever ever visits Thailand must ask for "Tom yum Kung" and "papaya salad (som tum)". They say "who never taste tomyumkung and som tum, they never come to Thailand". For the sweet, there are thousands of them which I might not be able to describe everything. So I might demonstrate using the images.
| | |
| --- | --- |
| | |
| Mango teen | ???? |
| | |
| Mango | ???? |
| | |
| ????? | ????? |
The other thing that makes Thailand so famous is Thai fruit.Between Januarys to March is the best time for Lychee, mangoes, Lumyai. Between Aprils to July It is the time for rambutants, durians, "mangos steens", "longgong". Apart from that, there are all season fruit s like banana, oranges, etc.
My website mainly contains contents on technology but because I am Thai so I would like to promote my country. Sorry for the inconvenience of inadequate details. I have put some links about Thailand so you can visit these links for more Thailand details.
There have been occasions when Thailand was negatively portrayed by the media such as newspapers or websites, but I'd like to let you know that the majority of Thais are peace-loving and kind-hearted people. It is only very small numbers of bad apples -- perhaps 1 in 100,000 or even 1 in 1,000,000 – that make the other 63 millions Thais look bad. So, I want to reassure you that Thai people are in general really kind, peace loving and smiley.